36V 13Ah E-bike Li-ion Battery Bicycle Battery With Rear Carrier Rack Bracket 468W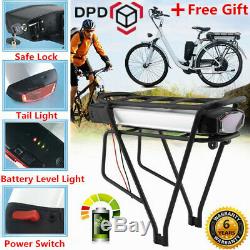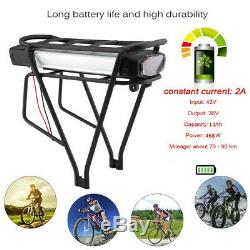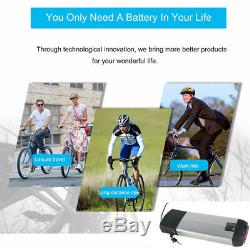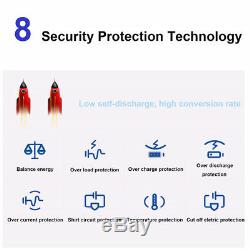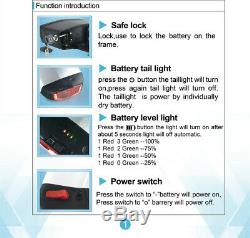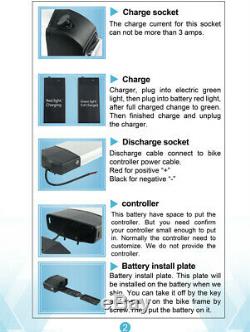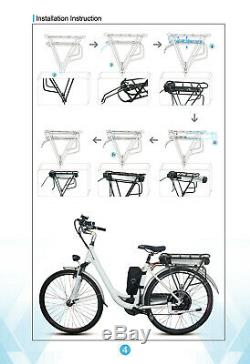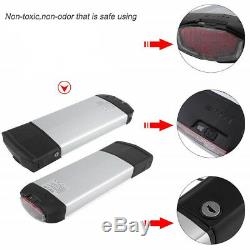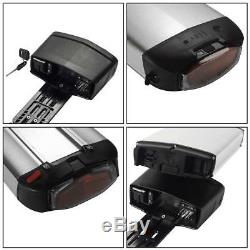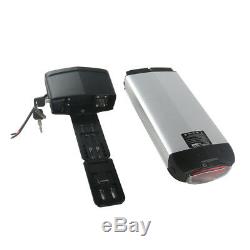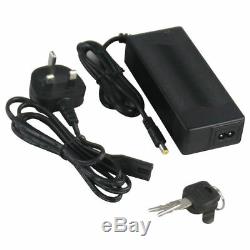 High Capacity 36V 13Ah E-Bike Li-Ion Battery Pedelec Battery Set With Rear Rack Durable Power Tool Lock Charger. For the electric bike 26" 28". Small size, light weight, easy to carry, sufficient power, long mileage, long service life, high-quality battery core capacity, guarantee mileage. The battery inside plus PVC film waterproof, with taillight reflector, aluminum alloy shell. Anti-theft lock, with a handle to facilitate home charging. The size of carrier bracket:440395145mm. Ride more easily and you can monitor the remaining power at any time, to determine the distance you can continue driving. Suitable for 200-360W motor, good quality Aluminium components designed for universal fitment and long term durability. Full charged can be keep for 25-30km/h. Note:The specific effects will change because of user weight, road conditions, weather, temperature changes etc. Built to the highest international standards, CE, RoHS, MSDS approved and.
PCB protection:Over charge, over discharge, over load and short circuit. Low-self discharge, less than 3% per month;Low temperature effect, can work (discharge) in -2060. The Landcrossers Battery equippes with BMS and PCB protective plate in battery. BMS is used to supervise battery by measure its voltage, temperature, current and SOC (State Of Charge), give out alarm under wrong circumstance, cut off electric power link in severe situation in order to protect battery and make its life longer. BMS can balance energy among batteries to make them more identical and expand its discharge cycle.
The lithium battery is non-toxic and non-odor that is safe to use. Compared with ordinary lead-acid batteries, which have a large amount of heavy metal lead which is harmful to the human body and the environment, lithium-ion batteries are highly environmentally friendly products. If you have any problem, please first contact our curtomer team for supply.
The Lithium Battery is with excellent quality and meets various international standards. It has successfully passed the quality inspections of many international certifications and authorities such as.
Nominal Voltage36V - Rated Capacity13000mah - Charging current2A max - Charge modeCCCV - Charging time? 7h2A charger - Over-Current Discharge Protection 60±5A - Charging cut-off current0.03C - Over-Charge Voltage Protectioncell4.25±0.015V - Maximum Continuous Discharging Current20A - Over-disCharge Voltagecell2.8±0.015V - Over-disCharge Voltage ProtectionPack2833V - Cyclelife80080% - Operation Temperature RangeCharge045Discharge-1060 - LED light modeMonochromatic light (switch control) - Product body size43515550mm - Product net weight (main body + accessories)5.85KG - Packing list: battery + key + charger +26 inch/28 inch black V brake frame + product manual + outer box. Press the button the light will turn on, after about 5seconds light will off automatic.
1 Red 0Green---less than 25% power, need to charge. The cell shall then be charged at constant voltage 0f 42 V volts while tapreing the charge current 0.2C. Charging shall be terminated when the charging current has tapreed to 0.02 C. Charge timeApprox 7.0h, The cell shall demonstrate no permanent degradation when charged between 0 and 45. 2.0.2C=Cells shall be discharged at a constant current of 0.2C , at 20±5.
If no otherwise specified, the rest time between Charge and Discharge amount to 10 min. The Li-ion cell should be fixed to the battery pack by its large surface area.
No cell movement in the battery pack should be allowed. Never incinerate nor dispose the cells in fire. These may cause explosion of the cells, which is very dangerous and is prohibition. The batteries should be stored at room temperature, charged to about 30% to 50% of capacity. We recommend that batteries be charged about once per three month to prevent over discharge.
Are not maintained within the specified ranges the life expectancy of the battery may be shortened or the device in which the battery is used may be damaged by electrolyte leakage. If the batteries cannot maintain a charge for long periods of time, even when they are charged correctly, this may indicate it is time to change the battery. 1X E-Bike Battery (36V 13A).
The item "36V 13Ah E-bike Li-ion Battery Bicycle Battery With Rear Carrier Rack Bracket 468W" is in sale since Friday, January 4, 2019. This item is in the category "Sporting Goods\Cycling\Bike Components & Parts\Electric Bike Components". The seller is "hohonow" and is located in Manchester. This item can be shipped to European Union member countries.
Model: R007(36V 13A)
EAN: 6924517892719
Item location: UK
Manufacturer warranty: 6 Years
Colour: Black
Shipping method: DHL
Certification: CE,RoHS,MSDS
Chemical Composition: Lithium-ion
Battery Type: Lithium-ion
UPC: Does not apply
Type: Battery
MPN: Does not apply
For Bike Type: Electric Bike
Brand: Unbranded
Electric Bike Part Type: Battery Charger

---