Alex Moulton AM Jubilee Advanced Engineered Separable Bicycle with Day Carrier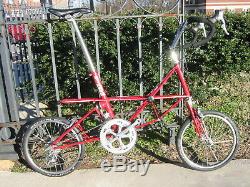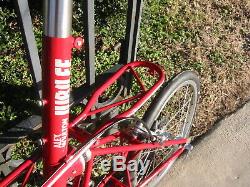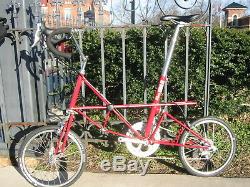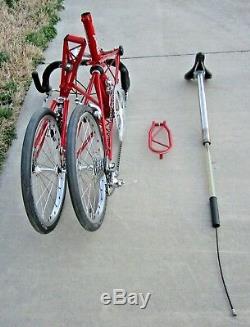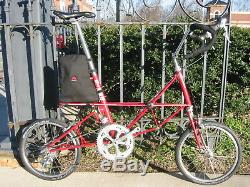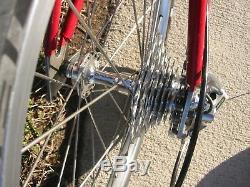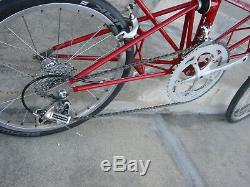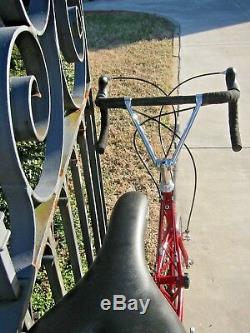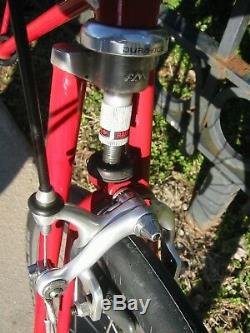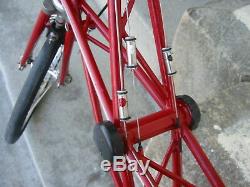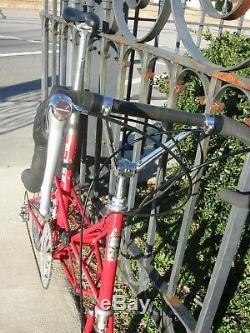 We reserve the right to end this listing early as it is being offered locally, nationally and internationally to our regular customers. Other configurations of this bike with additional carrier combinations to be listed soon. Same day or next day dispatch! Pump inside Seat tube Note: Pump or tent poles stowed in seat tube.
North Road Moulton Tip Sheet. Professional serviced by a long term, large volume and experienced Moulton Dealer.
Patented low maintenance Road tuned suspension. Separates in seconds for easy transport or Stowage. This is one very feature rich bicycle. Additional photos of specifics available upon request. A Premium Moulton Bike Model. It was their Flagship for several years and based on the bike specially built for Dave Brogden in 1987 who went on to successfully finish the 1987 Race Across America. This one is likely from the late 1990s with some significant component upgrades. This was the first Moulton Model to offer a lower head tube coupled with the highly adjustable patented Moulton Wishbone stem which allows a tremendous range of adjustment for either upright or low slung riding positions allowing for wonderful comfort and efficiency. The whole mechanism is very stiff being triangulated and constructed of chrome plated Reynolds 531 tubing. There is also a full complement of fittings for optional mudguards and a brazed-on kickstand style fitting for a Sanyo Dynamo behind the Bottom Bracket.
Water Bottle fitting on seat Tube. This bike like all Moultons features a Metal Headbadge of course! Frame: and Fork: Specially drawn Reynolds 531 tubing with stainless steel accents on the the dropouts, fork crown, demountable bosses, frame tie knuckle and front derailleur bracket.
The main frame is Fully Separable in seconds for stowage, transport. Additionally the rear triangle is removable if needed for travel if needed. This model used current and proven road tuned Moulton Leading Link Front suspension with adjustable dampening and Monosphere Self dampening Rear Rubber Cone Suspension. Different weight front springs and fittings for the rear Monosphere allow for customization based on rider weight and load carried though most people find the standard arrangement satisfactory.
Painted Ferrari Red with a silver coach line decal. This Premium Moulton is one of the most versatile cycling machines ever conceived and here are some of the potential uses. Day Touring - Century - Charity Rides - Greenways, Bike and Rail Trails. Moulton's have historical been used for all of these activities with great praise.
The speed, comfort and ease of pedaling of this Moulton is in a Special Category. The full road tuned suspension makes the distance of a century feel like a 50 miler at the end. The Frame Voids and Day Carrier allow carrying clothing, food or supplies a snap on remote or long journeys.
Greenways, Bike Trails and Rail Trails often have rough, unimproved surfaces with tree roots and branches and other hazards. Though far from a Mountain Bike the tire clearance and full road tuned suspension allow you to comfortably, speedily and safely travel almost anywhere.
Bike Packing - Loaded Touring - Camping. Whether for a weekend, cross country or an around the world expedition the Moulton is a often a chosen veteran for the task. With super light and extraordinarily strong compact wheels even the modest number of 28 spokes allows even heavy laden camping loads with complete confidence. The strength, comfort and flexible luggage arrangements utilizing combinations of he various luggage systems and even using the voids within the Space-frame itself allow clothing, luggage and supplies to be easily carried with unparalleled stability and control. Even heavily laden with 40 Lbs of luggage the bike if properly loaded can be steered with one finger tip!
Even away from civilization the small easy to pack folding tires and tubes weigh less than half of their big wheel cousins. In fact two folding tires for this bike take up less space and weigh less than half as much as one typical touring tire making the Moulton ideal for remote self supported journeys. Randonneuring - Audax - Brevets. This cycle is a discriminating choice for quite a few finishers of the Prestigious PARIS-BREST -PARIS 750 miler event. The Moulton platform is designed for full fender/mudguards with frame fittings and long reach caliper brakes.
Additionally the Small Wheels and Mudguards for this Moulton are so small it has a very small aerodynamic signature allowing it to out coast many tandems down hill! Also the mudguards are very effective keeping spray down and close to the road where it belongs.
Even the mudguard weight is as much as one third of the large wheel mudguard weight. High performance lighting by hub dynamo or battery is easily fitted on frame fittings, luggage carriers or high above the low mounted luggage on the seat pillar. Streamlined aerodynamic luggage can be carried within the voids of the space frame and on or in the Day Carrier or Day Bag.
On hot days up to three large frozen water bottles can be stowed vertically in the Day Bag away form the sun and enjoyed all day long. Gear Range is currently a Double Chainwheel Compact arrangement with a 26.7 to 92.7 Gear Inch Range. Most people will find this easy shifting arrangement satisfactory for even very hilly terrain. The chainwheels number 48 and 60 teeth and mount to the common industry road standard of 130 mm bcd which is common to Shimano.
Frame is a late model with recessed lower rear pivot bolt which allows room for a triple crank with proper components. The current crank can be easily converted to triple ring arrangement with longer bolts. Rings as small as 38 and 39 teeth can lower the very low gear dramatically. Also the cassette can be changed to a large rear sprocket of 30, 32 or even 34 teeth for even lower gears. You will find that small wheels make it easy to get very lower gears so higher top gearing takes a little more work.
Larger chainwheels are available but also the Shimano Capreo system can be installed with a commonly available 9x 26 Shimano spaced cassette allowing for high gears with smaller more common front chainwheels. Off the shelf Shimano rear cogs allow you to install much larger sprockets onto this cassette if you require lower gears. If you have questions about this please forward. Some have asked about repainting and decals either change the color or to improve cosmetics.
We have priced this bike low enough to allow this and still maintain and enhance its value. We can help to refer you to an experienced Moulton Painter in the USA if you wish.
Replacement decals for repaint or to freshen it up are available from the factory direct. This model is supplied with matching Red Moulton Day Carrier Only.
Other carriers and bags available. Optional: Large Matching Red Trunk Platform Carrier.
Will be offered soon in different listing. Optional: 35 liter Expanding Trunk Bag to fit Larger Rear Trunk Platform Carrier. Optional: Front Trunk Platform Carrier. Optional: Front Trunk Bag for Front Platform Carrier. Optional: Front Pannier Carrier for Moulton that Uniquely does not Weight Steering for the best heavily laden control!
Optional: Front Pannier Set to fit Pannier Carrier. Freestyle: Carry Soft luggage stowed in Space Frame Voids. (Photos of the items above in use available upon request). Wheels: Custom Moulton 369 17 inch alloy 295 gram Rims, Stainless Steel Spokes, Radial Front, X2 Rear Pattern. Hubs: Shimano DuraAce 7400 Series Quick Release 28 hole drilling.
Tires : NEW Schwalbe Kojak Folding 190 gram. Cassette: NEW SRAM 8 Speed 11x28 Range. Chain: New SRAM with Quick-link. Crank: Shimano DuraAce FD7410 170 mm Crank Arms with Alloy Chainwheel Bolts. ChainWheels: 60 Tooth Vuelta and Sugino 48 Silver Alloy.
Bottom Bracket: Shimano DuraAce Alloy BB-7410. Headset: Shimano DuraAce Alloy HS7410. Rear Derailleur: Shimano DuraAce RD7402. Front Derailleur: Shimano DuraAce FD7810.
Shifters and Brake Levers: Shimano DuraAce STI 7400 Series 8x2 Speed. Brake Calipers: Suntour Superbe Pro Long Reach Silver.
Cables and Housing: NEW Cables, SIS and SLR Teflon Lined Housing. Handlebars: Heat treated Dark Anodized Alloy. Tape: NEW Bike Ribbon Cork. Stem: Moulton Patented Adjustable Wishbone.
Extras: Pump inside Seat tube, Moulton Tip Sheet, Under Seat Moulton Tool. OTHER BICYCLE ITEMS AVAILABLE SEPARATELY TO COMPLETE YOUR BIKE BUILD.
If available see them in "our store" or in "sellers other items" and don't forget to follow us and sign up for our newsletter. We still endeavor to dispatch in one day but please understand these terms and conditions. This item currently ships worldwide using multiple methods. See new items in "our store" or in "sellers other items" and don't forget to follow us and sign up for our newsletter.
When you poke around our other items to see unique and one of a kind items available nowhere else. The item "Alex Moulton AM Jubilee Advanced Engineered Separable Bicycle with Day Carrier" is in sale since Wednesday, February 6, 2019.
This item is in the category "Sporting Goods\Cycling\Bicycles". The seller is "north_road_bicycle_imports" and is located in Yanceyville, North Carolina. This item can be shipped worldwide.
Brand: Alex Moulton
MPN: AM Jubilee
Frame Size: Universal
Color: Red
Wheel Size: 17 in 369 mm (28 - 32 mm width)
Bundle Listing: No
Frame Material: Reynolds 531 Steel
Gender: Unisex Adult
Model: AM Jubilee
Type: Road Bike - Touring
Number of Gears: 16
Suspension: Front & Rear (Full)
Brake Type: Road Caliper Long Reach
Features: Separable Frame
Country/Region of Manufacture: United Kingdom
Handlebar Type: Flat Bar
Modified Item: No
Non-Domestic Product: No
Custom Bundle: No
Manufacturer Color: Moulton Red
Gear Range: 26.7 - 92.7 Gear Inches (expandable)
Maximum Saddle Height - Pedal to Saddle: 105 cm / 41.3 inches
Minimal Saddle Height - Pedal to Saddle: 83.5 cm / 32.87 inches with current post

---