Peruzzo Venezia 4 Bike Rear Boot Carrier Black RRP £140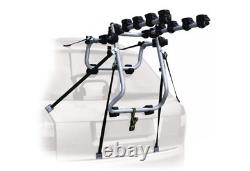 The Venezia Bike Rear Mount Carrier from Peruzzo securely holds up to three bikes safely on the rear of your vehicle. Plus, it features additional straps, tempered hooks, steel buckles and shock absorbing frame support for stable transit on every journey. Double upper straps, the most stressful point.
All straps tested at 250 kilos each. All 6 tempered hooks tested at 350 kilos each. Doubly safe with extra safety strap fixed to frame.
Quick and easy to fit and remove. Max Number of Bikes: 3. Max Individual Bike Weight (Kg): 15.
Max Size Frame Section (Mm): 60. Max Bike Size (Inch): 29. Max Width Bike Wheel (Mm): All. Max Distance Between Bike Wheels (Mm): All. Distance Between Bike Carrier Trails (Mm): N. Locking Bike to Rack: No. Distance Between Tube Arms for Bike Frame Support (Mm): 305.

---