Rear Mounted 4x4 Spare Wheel Cycle Carrier for Honda CR-V 1997-2007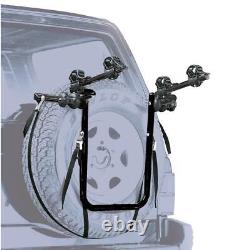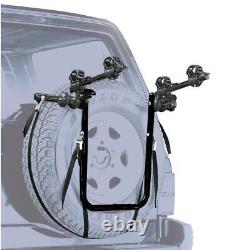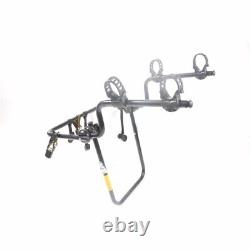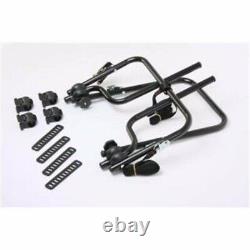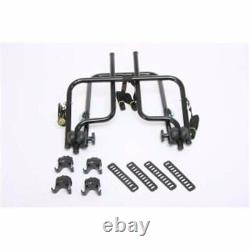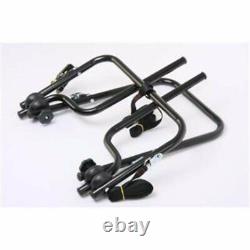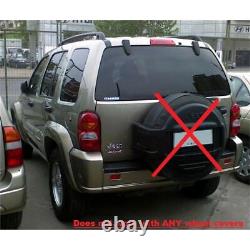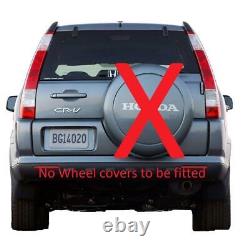 Please note that safety is of paramount importance when using bike racks, just like you would with your bike you must always check your equipment, make sure that everything is installed and tightened correctly. Your bike will be secure so long as the bike rack is used correctly.
The bike rack also has a weight limit that must not be exceeded, remember you are responsible for the correct loading of your bike rack. Peruzzo 4x4 spare wheel mounted cycle carrier is the perfect bike rack to transport your bikes around.
Features Easy to fit, the bike rack simply mounts to the spare wheel on the rear of your 4x4, no tools required. With rugged and durable straps you can trust that the bike carrier is safe and secure. Peruzzo patented anti-bounce shock absorbing frame support stops any rough road boucing of the frame when bikes are mounted during travel. The bike carrier is made from black coated high strength steel as well as reinforced plastic joints. Fitment Bikes are mounted to the carrier using the frame of the bike and capable of carrying all types of bicycles (Full Size Mens, Womens, Kids, BMXs).
For bikes with no cross bar an additional accessory, the Artificial Cross bar Adapter, is necessary to enable transportation. The adapter can be found can be found >HERE. Bike carrier must mount directly onto spare wheel itself. There cannot be any license plate holders, brake light or support arm holding the wheel as this will impede the mounting of the carrier. Load Capacity It has a maximum load of 30 kgs (2 bikes - 15kgs each). The carrier simply folds flat when not in use and only weighs 4.8 kgs. Frame Material : 25mm Diameter Steel Tubing. Installation : Quick and easy to fit and remove - no tools required. Safety : Lower straps have anti-bounce fail-safe system for extra safety. Maximum Load : 2 Bikes / 30kg. Protection : All contact parts covered with rubber to protect vehicle parts. Mounting Type : 4x4 / Spare Tyre.
Additional Info : Bike Frame Adapter needed to mount Female, BMX and Kids bikes. Brand: Peruzzo Part: Bike Racks - Rear Door Mounted Part Number: PZ34X4-6247. Here at MicksGarage, nothing is more important to us than getting your order on its way to you in the quickest possible time. Over 99% of our deliveries arrive on time, and it's no wonder why we have over 99% happy customers!
Order dispatch may take a little longer in the below cases. If you've ordered outside of our normal operational hours, or on a Bank Holiday.
If we encounter a sudden stock shortage of one of your items and we need to contact you to help you find your item. Some of the couriers we work with may contact you directly to.
We may dispatch your order from multiple warehouses and sometimes it may arrive in more than one package. MicksGarage is one of the UK's largest online retailers of car parts and accessories. Serving our UK customers from our state of the art distribution centre in Barnsley. We pride ourselves in being the Car Parts Experts, with our team collectively having over 250 years of experience in the automotive sector, and our passion for all things automotive has helped us build a product range to suit every possible need you will have for your car.
We cater for all types of motoring consumers, from car enthusiasts to families going on a driving holiday! Whether you are preparing your car for a road trip or polishing your new or old! Motor, our aim is to provide you, the motorist, with the biggest range of automotive brands and products at unbeatable prices.
Dedicated and expert support, 6 days a week. We will guide you through the process to make everything as easy as possible. How do I make a return? How should I send my return?
Once we receive your item, we'll process your return. How do I return a faulty item?

---